Packaged Boilers for Low-Pressure Steam or Hot Water Applications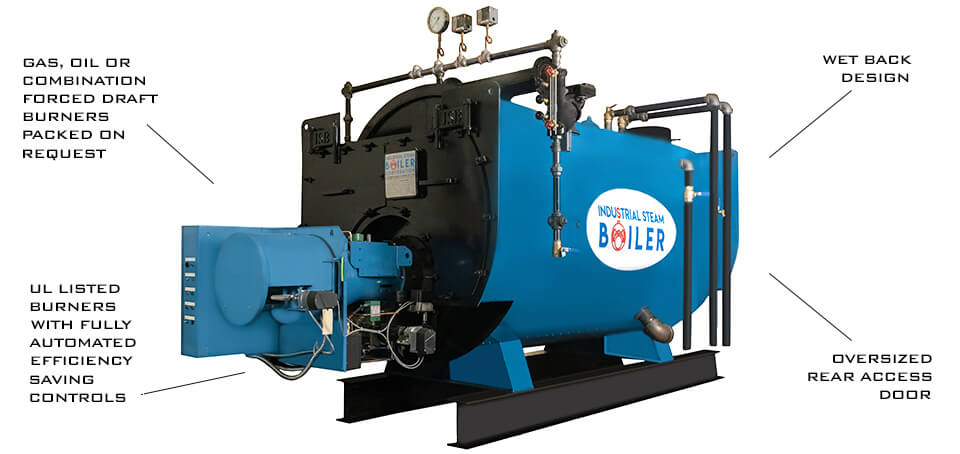 Industrial Steam Boiler Corporation designs, builds and delivers steel Scotch marine combustion systems for use in low-pressure steam or hot water applications. Manufactured with operations and maintenance costs in mind, these packaged boilers come completely piped, wired and ready for years of efficient use. They are fully ASME and UL approved, compatible with multiple different fuel and burner types, and available with advanced emission-reducing technology to meet the latest building code requirements of New York City and other major Northeast U.S. municipalities.
Key Features
Four or Three Pass Water Back Design
Low-Pressure Steam Rated Up to 15 PSI
Hot Water Rated 30 to 160 PSI
High-Efficiency ASME Section IV Low-Pressure Heating Boilers
50 to 600 BHP Capacity
700 to 1,000 BHP Capacity for Custom Builds
Packaged with Gas, Oil, or Dual Fuel Gas/Oil Burner
Large Steam Disengaging Area
Optional Tankless Domestic Hot Water Coil
ASME, UL, CSD-1 & ASHRAE Compliant
Best Boiler Warranties in the Industry
Vessels & Tanks
Industrial Steam Boiler Corporation specializes in manufacturing NYC, ASME and UL approved pressure vessels. We build to a full range of pressure and non-pressure vessel design specs with various storage capacities for both aboveground and underground applications. Custom fuel oil tanks and header systems are also available on request.
550-33,000 Gallon Capacity
42-120 Inch Tank Diameters
Bigger Custom Builds Available on Request
Other Designs, Equipment and Services
Industrial Steam Boiler Corporation also offers Fire Box Boiler Designs, Lo Nox Burners, Boiler Auxiliary equipment (Blowdown tanks, Boiler Feed Tanks, Condensate Receiver Tanks, Condensate Coolers/Domestic water preheaters), CAD, Master SPEC AIA Drawings and Boiler Parts & Service.